TRIFINEON MiCloud Workspace is a managed Hosted Virtual Desktop solution That provides secure, high-performance access to your business applications and data from anywhere, Any Device, Any Time with the reliability, security, performance and support of a Fortune 500 IT organization.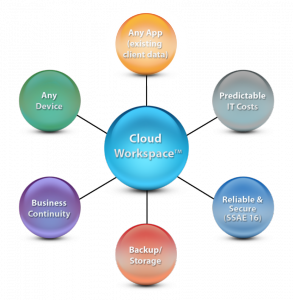 Reduce IT Costs
Significantly reduce operational costs and cut capital expenditure by eliminating on-site servers, software and maintenance. The MiCloud Workspace™ can also extend the life of your current workstation investments.
And that's just the beginning. With the TRIFINEON MiCloud Workspace, your application upgrades data security, backup and recovery are all managed automatically with ISO 27001 compliant process controls and infrastructure.
We are not done yet, with every 3 or more cloud desktop account, unlimited remote/onsite IT support is included at your physical environment*

Work Anywhere
The Cloud Workspace™ gives users secure, high-performance access to applications and data from any internet-connected device. Enhance productivity by allowing employees to work from home or on the road.

Highly Secure
Our data centre has certified security experts monitoring your infrastructure 24x7x365 for immediate recovery in case of viruses and other malware. The Cloud Workspace™ is SSAE 16 SOC 2 compliant.

Freedom in the Cloud
Allowing your organization to securely, rapidly and reliably move all of your business applications and data entirely to the cloud. Giving you access from anywhere in the world, on any computer or mobile device, at any time.

Seamless Integration
Hundreds of business applications, off the shelf software and custom applications means you can access everything you need to run your business from anywhere with an internet connection.

Automated Management
Your application upgrades, maintenance, data security, backup and recovery are all managed automatically with ISO 27001 compliant process controls and infrastructure.

TRUE CANADIAN – WE THE NORTH-
Your data is guaranteed to live on Canadian soil putting your concerns about Data Localization and Data Residency to rest.
Secure and Compliant
ISO 27001 & SSAE 16 compliant process controls and infrastructure.
Certified security experts, infrastructure monitoring 24x7 for immediate remediation from viruses, and other malicious intruders.
Business Continuity AND Disaster Recovery protection.
Fully redundant data storage and routine back-up.
For Canada a 100% Canadian based Infrastructure & data storage solution is provided.
Predictable, Fixed monthly fee per user.

Security is Our Core Philosophy
Security is of prime importance at MiCloud Workspace. We immediately recognized the need for more security in the Cloud, as public, multi-tenant clouds do not typically offer a level of security appropriate for mission critical business data. Thus, MiCloud Workspace takes added security measures and has established multiple lines of defense to protect clients' digital assets.
Physical Security
MiCloud Workspace data centers are always equipped with 24x7x365 security guards, dvr cameras, a biometric hand scan for outside entry, mantraps for internal entry, protected access to MiCloud infrastructure and special digital locks with separate codes per cabinet for front/back access. All access points to our data centers have audit logs and comply with SSAE16 (formerly SAS70 Type II) auditing standards.
In fact, MiCloud Workspace data centers have been awarded SSAE16 Compliance, ISO and LEED certifications.

Network Security
We use dedicated virtual appliances for firewalls, load balancers and wan optimizers to address potential security gaps. We also offer network level anti-virus, spam, and malware and IPS controls. Multi-factor authentication is utilized for remote access to each virtual data center. AES 256-bit encryption is used for all VPN peer-to-peer and remote access. For added security for peer-to-peer circuits, we connect to their virtual private data centers.
Server/desktop level Security
We provide a multi-customer environment that isolates access to the infrastructure. This helps each customer meet individual security, licensing and other requirements. Every layer of isolation heightens network security. We also provide anti-virus, spam, malware protection to every desktops.
Storage Security
We offer dedicated network connectivity for storage streams, virtualized storage controls per customer, upon request, or entire dedicated storage arrays. Data at rest may be encrypted at the drive level, as well as at the server level. Migration to the Cloud has never been easier.
Is your business right for the cloud?
Contact us today to learn more about Trifineon MiCloud Workspace solution and our end-to-end Managed IT support services.
The Trifineon Guarantee:
When you sign up for Trifineon Solutions' professional cloud computing services, you'll find:
Security – Your vital systems and data will be protected from data loss, un-authorize data breech and even theft
Service and Support – We'll always be around 24/7 to serve your needs, and we'll proactively monitor your systems to prevent any problems in the first place
Data protection – with our built in data backup and secure data storage, you'll never have to worry about losing your data in the event of any catastrophic disaster
Tools you can use – When you need to control and manage your systems, we give you easy to use, intuitive tools to help you along the way
Talk to Trifineon Solutions today about making these cloud computing services in Downtown Toronto and throughout the Greater Toronto Area (GTA) work for you.